Diner Feedback Overview
Edited
BentoBox's Diner Feedback provides restaurants with the ability to collect and review order feedback from diners.
Diner Feedback Dashboard:
For restaurants using BentoBox Online Ordering, you will now see a section in your BentoBox account called "Feedback" within the "Diners" navigation (formerly known as the Guests section):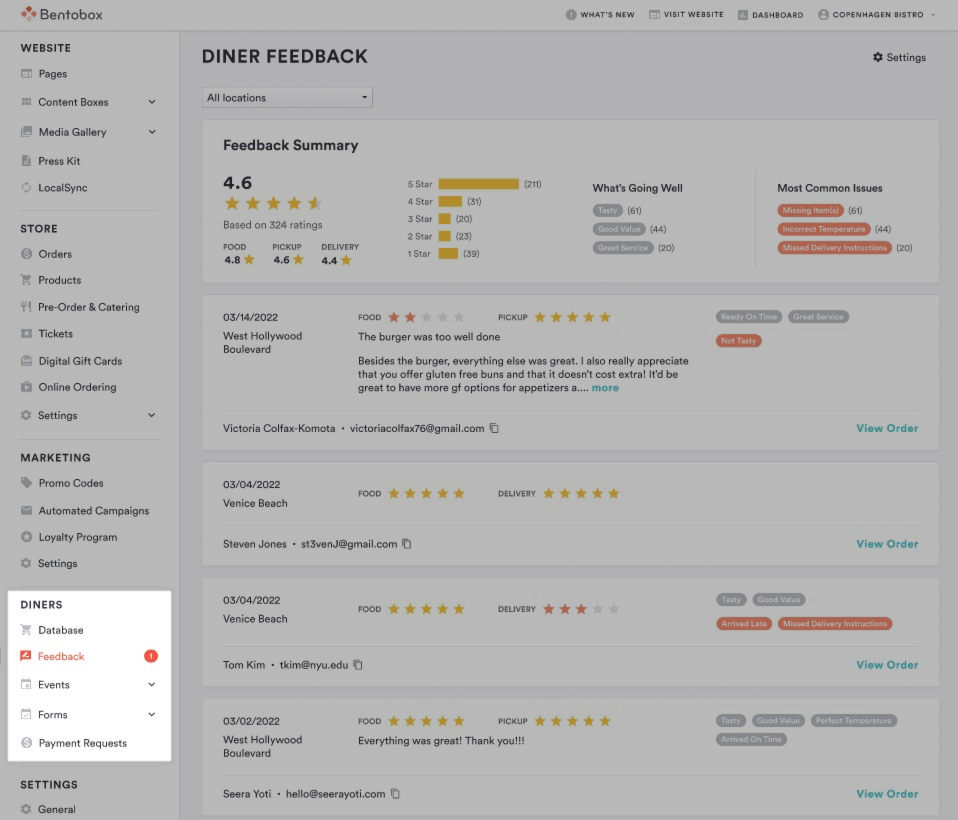 In this dashboard you will be able to see a summary of the feedback you've collected and individual responses sorted by most recent. 
Use the "View Order" button to see the diners' order details or the "Copy to Clipboard" icon next to the diners' email address so you can reach out to them if remedies are needed. 

Sort by location at the top of the page if you want to view feedback for a certain location.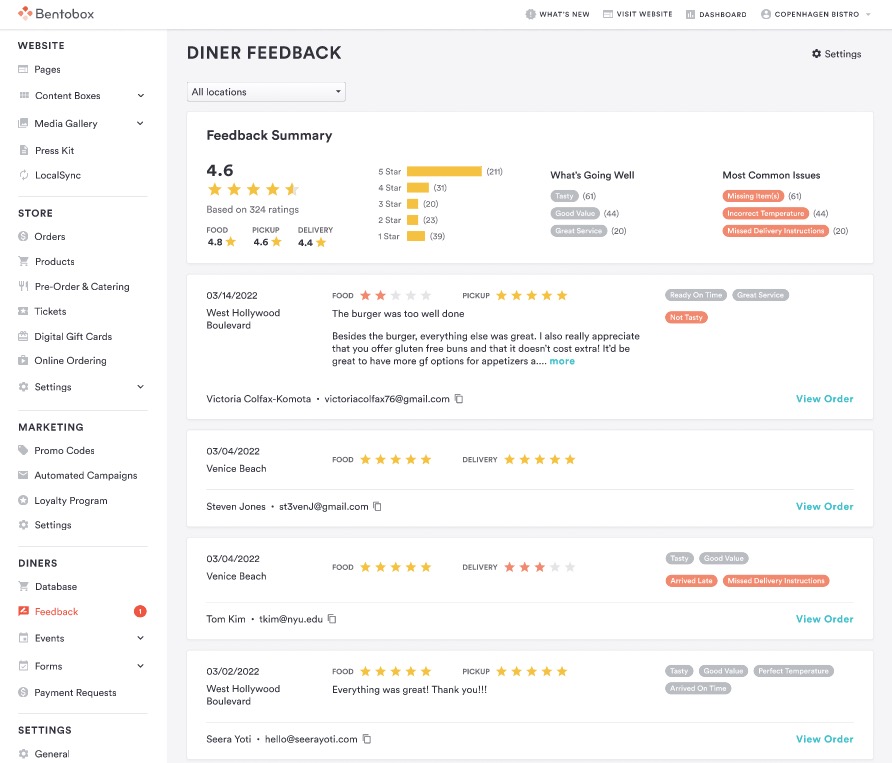 Note: All order feedback collected is not posted publicly and can only be viewed by BentoBox users who have Diner privileges in Settings > Users.
Diner Feedback Settings:
BentoBox customers have a few settings they customize in Diner Feedback. Click the Settings gear on the main Diner Feedback page to access the settings: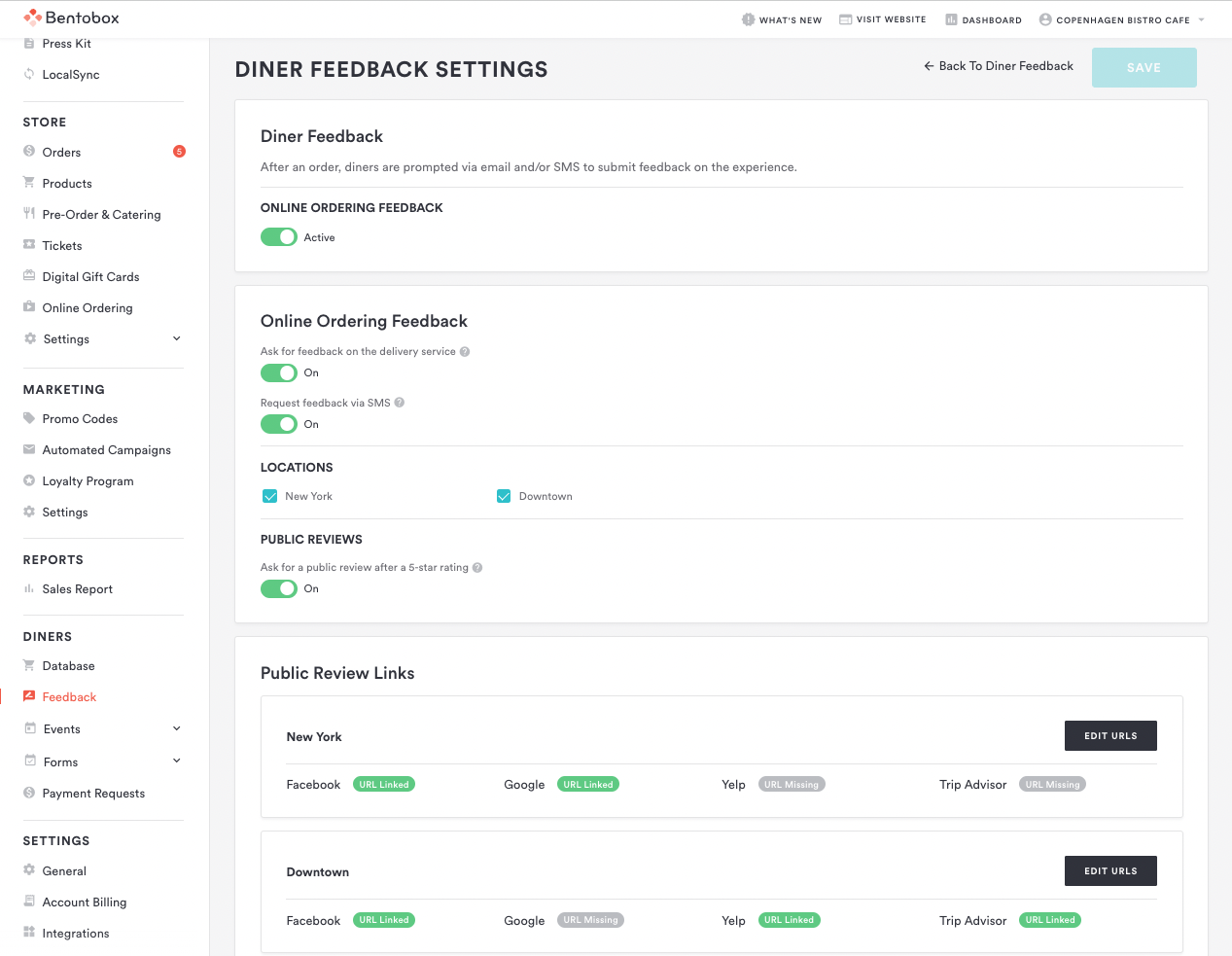 Online Ordering Feedback: This toggle determines if the feedback is being collected from diners. If the toggle is set to "Active", notifications will be sent to online ordering diners to submit their feedback.

Ask for feedback on the delivery service: If this toggle is "On", diners will be prompted to rate their delivery experience if they placed a delivery order. 

Request feedback via SMS: If this toggle is "On", diners who chose Text as their notification preference at checkout will receive their feedback questions via text. If this toggle is "Off", diners will receive an email for their feedback regardless if they selected Text as their notification preference at checkout.

Locations: If you have multiple locations, select which location you wish to collect feedback from.

Public Reviews: If this toggle is "On", diners who leave a 5-star rating will be prompted to leave a public review for any of the review links you have set. You can set links for Facebook, Google, Yelp, and Trip Advisor.
The Diner Experience:
If Diner Feedback is Active in your Feedback Settings, your diners will receive a "Tell us how we did!" email or text notification 1-2 hours after their order is complete (one hour for delivery orders, 2 hours for pickup orders).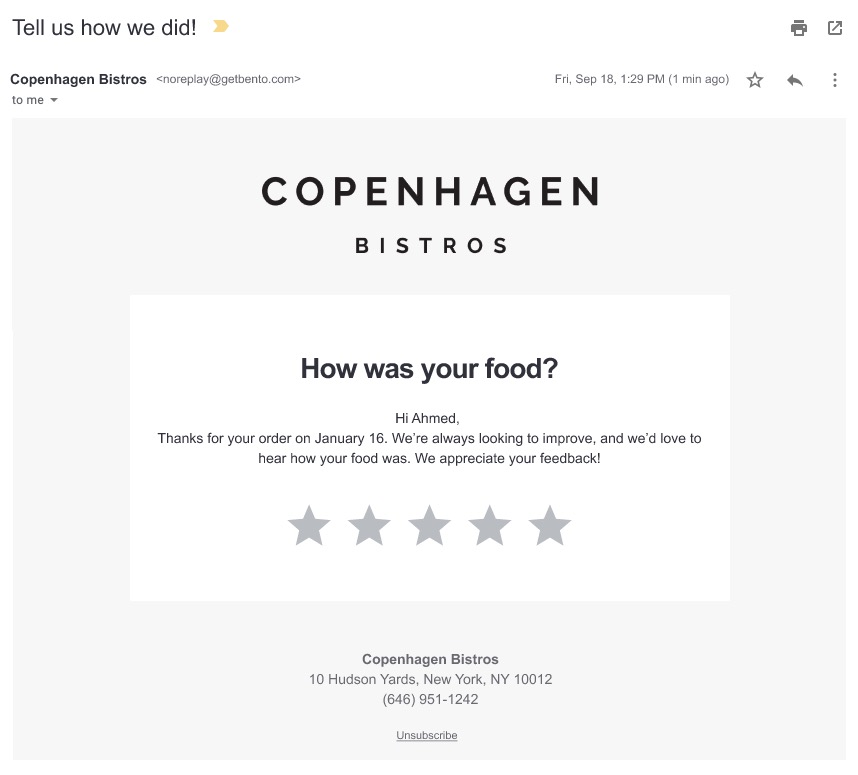 Diners will then be prompted to answer two questions: "How was your food?" and "How was the [delivery or pickup] experience?". The delivery question will only appear for diners who placed delivery orders and the pickup question will only appear for diners who placed pickup orders. 
Note: The delivery question can be turned off in the Feedback settings.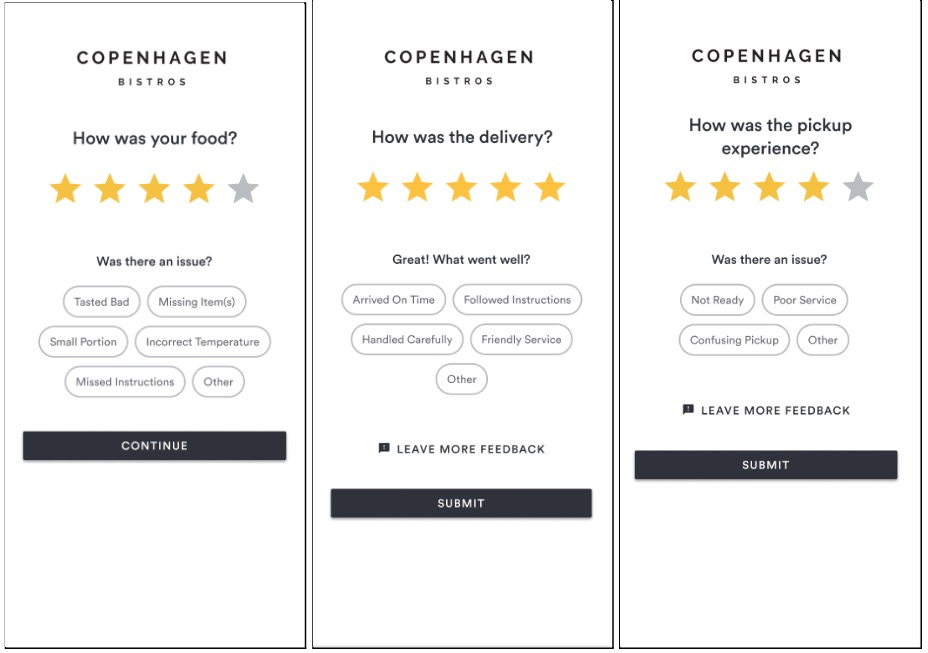 After the diner answers those two questions, they will see a confirmation page if they left a combined rating of 4 stars or less OR no social URLs have been configured.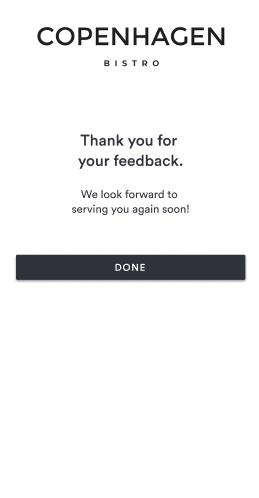 If they left a combined 5-star rating & at least one social URL has been configured, they will be prompted to leave a public review.