Printer Integration FAQs
Edited
General Printer FAQ
What printer(s) do you integrate with? How can I purchase one?
What do order print-outs look like?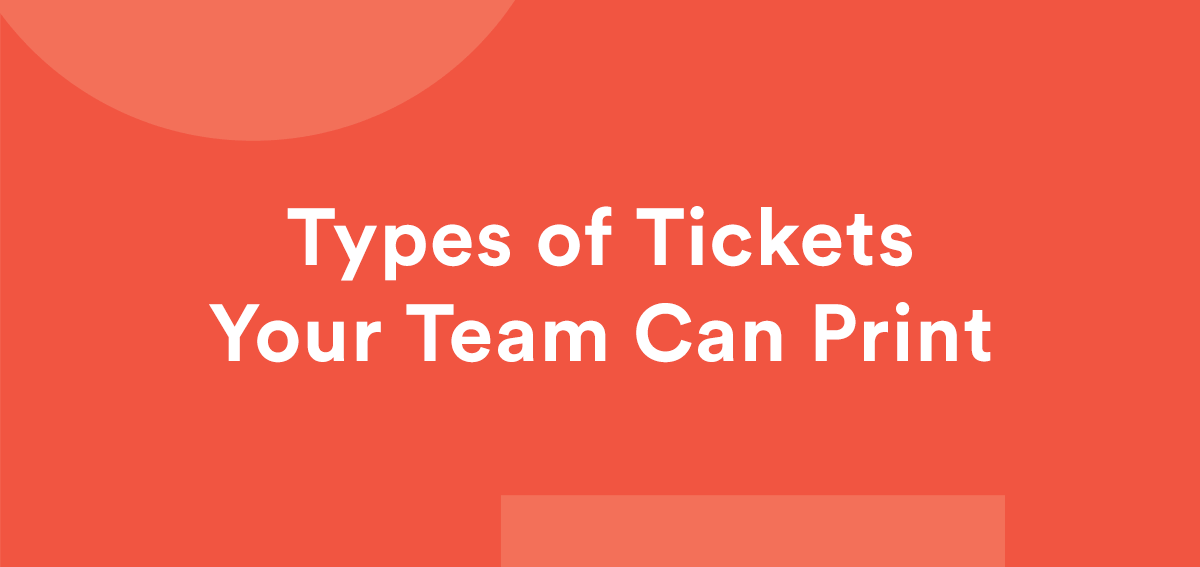 What are the benefits of integrating a printer with online ordering? 
Restaurants can improve their workflow by receiving an automatically printed out receipt as orders come in. This eliminates the need to manually write down orders, communicate the orders verbally to the kitchen staff, entering in orders manually into the POS to print, etc. 
Is there a fee for integrating Online online ordering with a thermal printer? 
No, there is no fee for integrating a printer to BentoBox. 
Can I use multiple printers with BentoBox's online ordering?
Yes, however all orders will be printed out on all printers integrated with Online Ordering by BentoBox.
Will printers be supported for multiple locations?
Yes! You can map printers to locations in a 1:1 format if you are a multi-location restaurant. 
Is there a POS integration? 
With this setup, BentoBox orders bypass the POS and print directly to the printer. This is not an integration between the POS, printer and BentoBox online ordering.  
Who do I go to for help with setting up my printer, troubleshooting or issues? 
If there is an issue with the connection to BentoBox, please contact BentoBox's support team for help and to determine next steps. 
ShopPOSPortal: If you purchased a printer from shopPOSportal and you need help with setup or are experiencing hardware issues, their technical support team can help! Fill out their contact form here or call them at (833) 466-4478. 

Star Micronics Support: For any setup or hardware issues, you can also submit a ticket to the Star Micronics Technical Support team here or call them at (800) 782-7636 x995. 

Epson Technical Support: (562) 276-1314 | Monday – Friday 7 am – 4 pm (PT)

Does this mean that I no longer need to manage orders in the BentoBox backend? 
Correct! If you turn autopilot to ON, BentoBox automatically marks orders as begun to diners at prep time, and then BentoBox marks orders as ready for pickup or out for delivery at the due-by time. If autopilot is turned off, staff should still update the status throughout the order fulfillment process. 
Can I connect my online ordering to the printer via Bluetooth or WiFi? 
No, online ordering can only connect to your printer via an ethernet cable at this time.
You can use a wireless ethernet adapter to connect your printer via ethernet connection. For example, the TP-Link AV600 Powerline Ethernet Adapter utilizes the existing electrical circuit with no need for new wires or drilling and brings wired network to anywhere there is a power outlet(Up to 300 meters). You can purchase on Amazon here. **Note that the adapters must utilize the same electrical circuit to work. 
Will customers still receive order status updates via SMS?
Yes, if the restaurant is using autopilot, the statuses will be sent out automatically. If they aren't using autopilot, SMS texts will fire when they are manually updated in the backend. Whether an ASAP order or scheduled order, the diner will receive an order confirmation immediately. 
Star Micronics Printer FAQ
I already have a Star Micronics printer. Can I use it with my online ordering? 
First, please note that although printers can work with different online ordering systems, it cannot work with more than one online ordering system simultaneously. This is the same across all platforms and is not BentoBox specific. 
Next, check the back/bottom of your printer to ensure you have a cloudPRNT enabled TSP654II printer. This technology is required within a printer to connect to your Online Ordering page. Please note that BentoBox has not tested all printer models, so using a non-recommended model is at your own discretion.  
Is this printer integration for impact/dot matrix printers? 
No, the printer currently supported is a thermal printer. This means it only prints out one copy at a time and uses thermal printer paper. Note: The number of copies that are printed out for an order configured in the backend. 
What kind of printer paper does the printer take? 
Standard 3.125 printer paper. It can be purchased here or anywhere else. 
Can I direct receipts to different printers (e.g. Drinks only go to the bar printer, food items only go to the kitchen printer) 
Printers can be associated to specific menu sections, however the receipt printed will include the full order. The receipt will not be broken apart and be sent to the respective printers. 
For example, Copenhagen Bistros has a kitchen printer and bar printer. In the backend, the kitchen printer is configured to only print when an order includes breakfast, lunch and dinner menu sections. The bar printer is configured to only print when an order includes items in the drinks menu section. If an order is placed for tacos and a cocktail, the full receipt will be printed out for both the kitchen and bar printers. However if an order is placed only for a cocktail, a receipt will be printed to the bar but not the kitchen. If an order only included the tacos (and not an item from the drinks section), the order will print from the kitchen printer but not the bar printer. 
How can I determine if I have the correct printer model?
Flip the printer upside down to view the sticker placed on the bottom. On the top right of the sticker you'll find the printer model. The printer currently supported is the 654II model, which is displayed in the example below. It's also essential that the model 654II includes the CloudPRNT technology.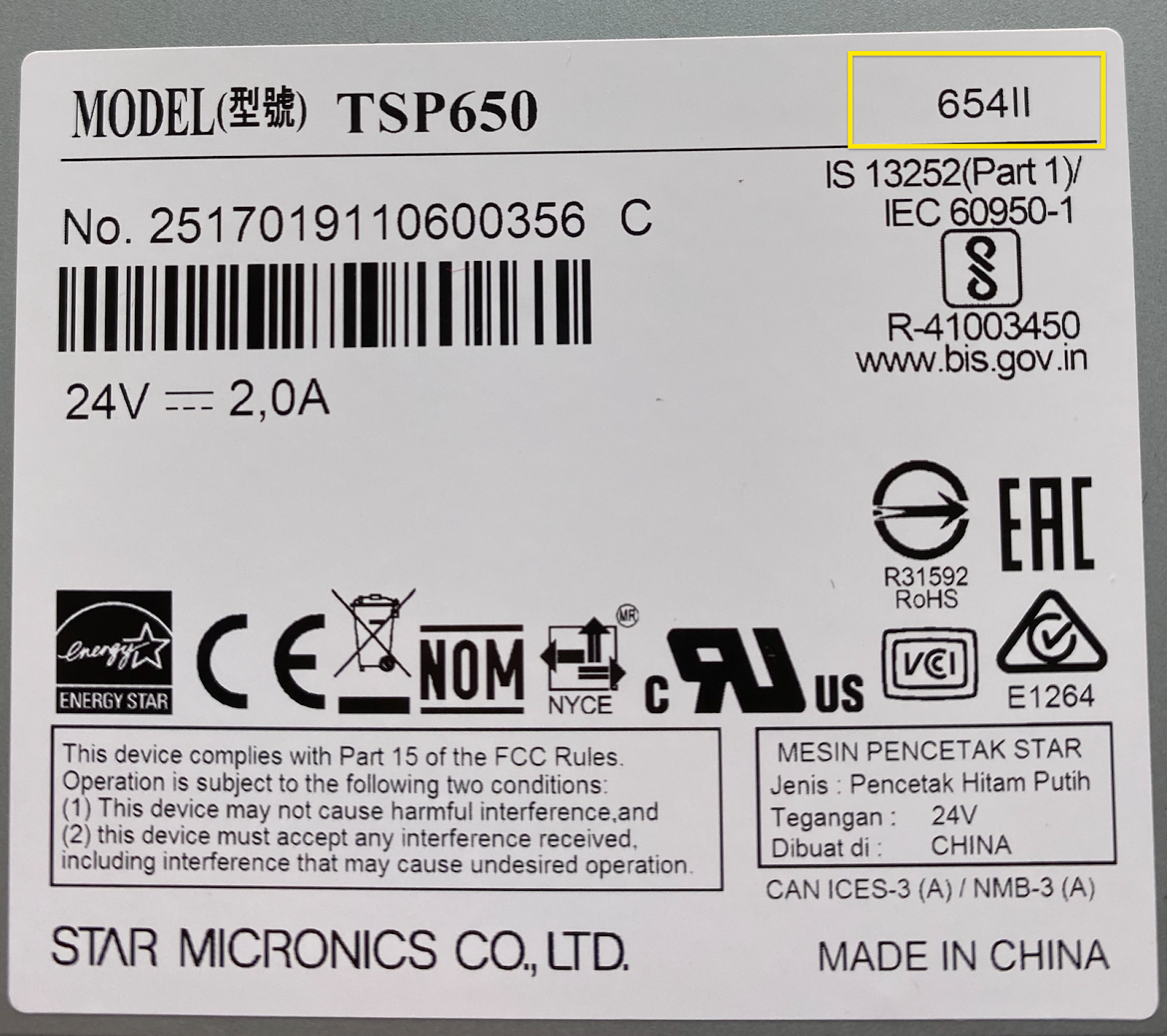 How can I remove the backlog of printer receipts after the printer was disconnected for a while? 
If your printer has been disconnected for a period of time, whether it's turned off, out of paper, etc., there may be a queue of "print tasks" that are waiting to be printed out. Once the printer is reconnected, the number of print tasks in the queue will print out at once and may become difficult to manage. 
You can select the "clear print tasks" button to clear all print tasks that are in the queue to be printed. The "clear print tasks" button will display the number of tasks that are currently in the queue at a given time. In this example, there are 4 receipts that are waiting to be printed out. If there are orders that have not been fulfilled yet and receipts still need to be printed out, you'll need to print them out manually from the order page. 
How do I update the firmware of the printer?
If your printer is having issues, first conduct a self-print to determine if the firmware of your printer is out of date. You'll find the firmware at the top of the printed out paper. The current version as of February 2020 is v1.9.0. If your printer's firmware is out of date and having issues, follow the following steps to update it:
Use the printer's IP address (99.42.42.153) in your browser and login to the printer.

Find the option to update the firmware on the left-hand side of the page.

Follow the directions on the screen. 
Epson Printer FAQ
Where does the item name come from that is printed out? 
Receipts and kitchen tickets print out the "item name" not the "item display name" found here. The character length for the receipts are 65 characters, so it's best to keep the "item name" under 65 characters. If the character length of an "item name" is longer than 65 characters, the item will be cut off.