Tell your guests about Online Ordering on Google
Edited
Google Integration: Accept Direct Pickup and Delivery Orders on Google Search & Maps
If you're accepting pickup and/or delivery orders with BentoBox's Online Ordering, you can accept orders directly on Google Search and Google Maps. BentoBox syncs your online ordering menu, hours, scheduled closures, and more with Google — seamlessly sending new orders back into BentoBox. This integration drives more orders for your business at no additional cost.
Quick overview:
Increases visibility by putting your restaurant where diners are searching.

Takes control of your online ordering profits. 

Drives more repeat business by increasing the speed to order.
Don't use Online Ordering yet?
Learn More to streamline your to-go operations and own your pickup and delivery profit.
Diner searching for you on Google will now see "Order Pickup" and/or "Order Delivery" buttons. 
Here's what this experience looks like for a diner searching on Google Search: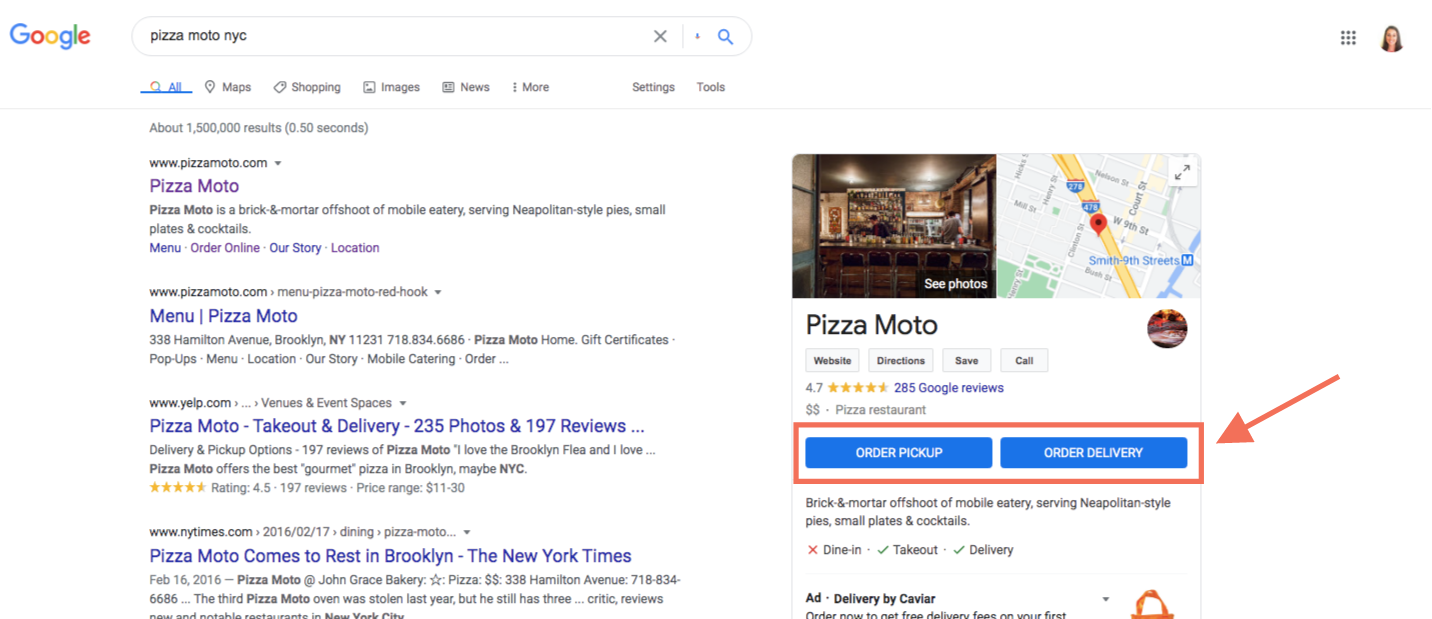 And here's what the experience looks like for a diner searching on Google Maps: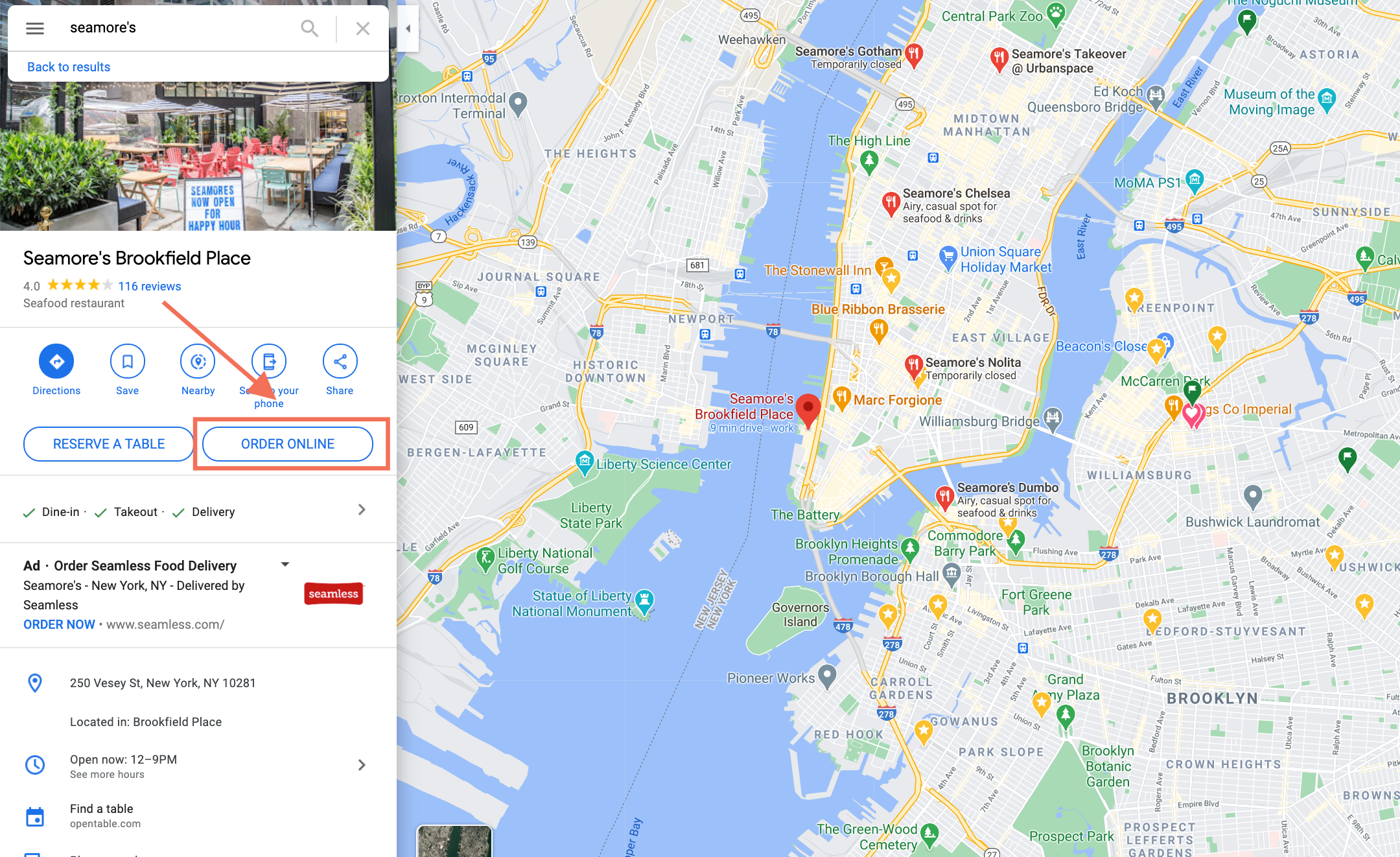 FAQs
How do I get started?
This experience is activated automatically for all online ordering customers. All you need is a Business Profile on Google with a name and address that matches your account name in BentoBox. If your Business Profile is not set up yet, sign up for free at business.google.com.
BentoBox will share relevant business information with Google so that Google can match the two accounts, add your business menu information, and automatically enable the online ordering functionality on your Business Profile.
What should my guests expect when they're ordering on Google?
Once a diner clicks your pickup or delivery button and selects a time, they can view your menu and begin adding items to cart. From there, they can complete checkout while still remaining on Google.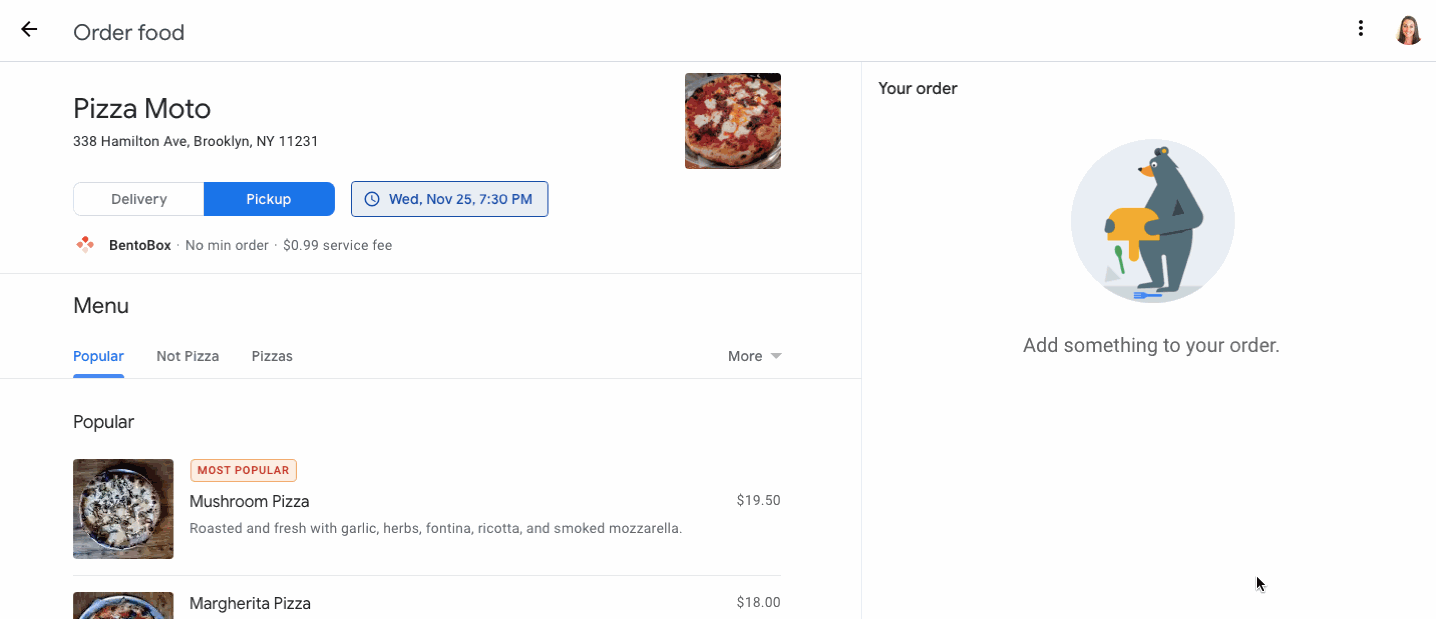 Info on menu items like images and modifiers appear on Google just like they would through your direct ordering link on your website.
Diners who place an order through Google will automatically receive SMS and email alerts from BentoBox for when their order has been placed, is being prepared, and is ready.
What does this cost my restaurant?
This feature is included at no additional cost for online ordering customers. 
How will my team see new orders?
New orders from Google will appear in BentoBox, in your Pickup and Delivery order feed — just as orders from your website do. If you use our printer integration, orders will print like usual. If you use Square POS, they will appear in your POS.
You should be fulfilling the delivery or pickup order exactly the same as you normally would. If Autopilot is turned on, no action is needed. If it is not, you will need to mark orders as started, then ready for pickup or out for delivery (unless a DoorDash Drive courier does this for you).

What are the differences between this Google integration and my Business Profile on Google? 
This integration: BentoBox makes it easy for your customers to order food directly from your Business Profile on Google Search and Maps by clicking on a blue "Order Online" button placed prominently on your Business Profile.
A Business Profile on Google, in general: This is a free way for a business to show up on Google Search and Maps and interact with customers online.  A restaurant can showcase what makes your business special by adding photos, menus and online ordering directly to your free Business Profile.
What else can I do to encourage customers to place direct orders on Google? 
When you log in to your Business Profile on Google, you can: 1). add a direct ordering link for your business (i.e. www.your-restaurant.com/online-ordering) by going to Info > Order ahead links > enter your direct ordering link > Click "Apply." Before you click "Apply" you can also take another action: 2.) mark your direct link as preferred, so diners see a note that says "Preferred by this business" when they click your "Order" link on Google Search or "Place an Order" on Google Maps.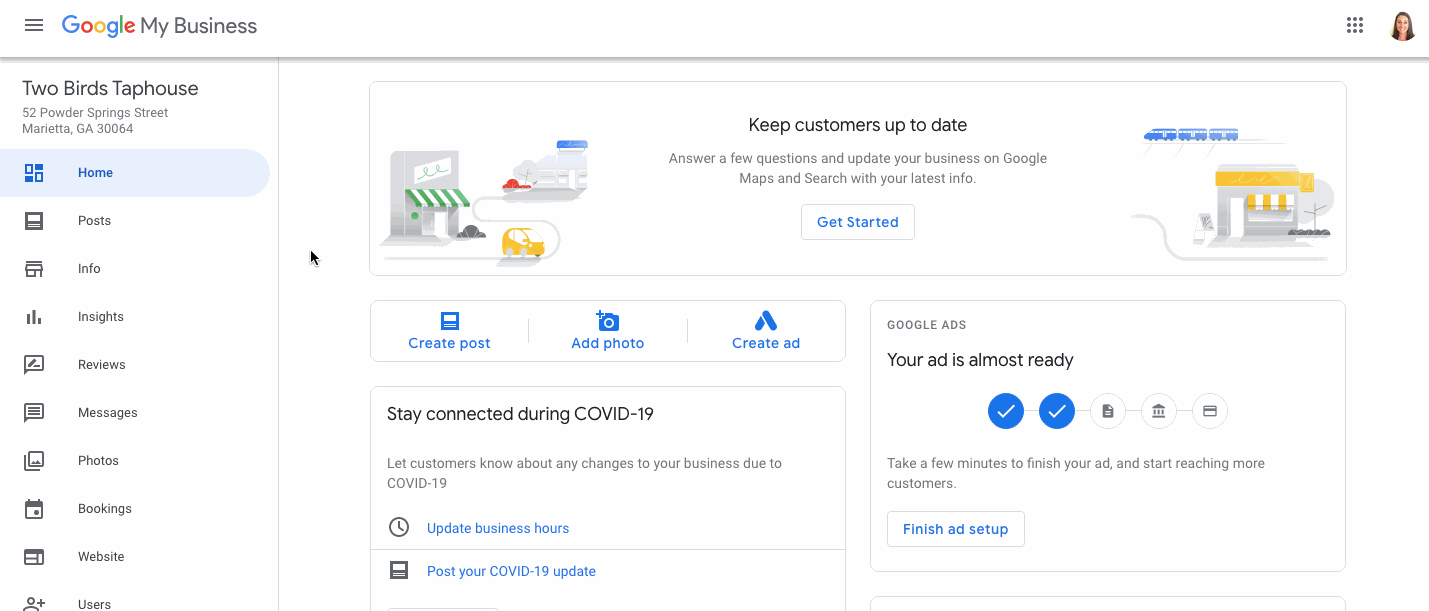 Reminder: this ordering link is separate from this integration. This is not the blue button; it is a link lower down in your business listing on Google. 
Are there any aspects of Online Ordering that don't carry over to Google with this integration?
At this time, diners will not see the following options at checkout:
Ability to contribute $1.99 as part of a COVID-19 Relief Fund for your restaurant

Ability to add an "Item Made for" for each item

Ability to use a promo code to apply a discount
My listing shows multiple providers after the order button is clicked. Can I make changes to these settings? 
To make updates & changes to your provider settings, you can follow the instructions outlined in Google's Help Center Article here.
Why don't I see an ordering call-to-action (CTA) button on my Business Profile on Google?
First, you must be an active online ordering customer through BentoBox for this integration to work. Ensure your account has:  
An active online ordering license. Don't use Online Ordering yet? Learn more.

A payment processor connected (Log in to BentoBox and go to your Integrations page to make sure a Clover, Square or Stripe account is connected.)

Store Settings properly configured

Online Ordering is on (Online Ordering > Locations > Edit Location (you should have fulfillment types turned on on the right, and hours added in your Pickup and/or Delivery tabs).

Menu hours are associated to the fulfillment type
If you have questions about making sure your Online Ordering is set up correctly, contact support at support@getbento.com 
Second, make sure that someone at your company did not turn off Order with Google. You can do this by logging into BentoBox and going to Online Ordering > Settings.
Third, check your business address, account name and phone number on Google and in BentoBox.
Do they match? Google will automatically match your address and restaurant name to what Google has in their database. You'll want to make sure they are close enough in order for Order with Google to list your business.
Note: If you're still not seeing the food ordering toggle button in Google, check that your business is classified as either a "Restaurant" or "Bar" instead of a different type of shop. 
Here's how to check in BentoBox:
Checking Your Account Name in BentoBox
To view your account name in BentoBox, log in to BentoBox and look at the top right corner: 

If this account name matches your Google listing name — great! If it doesn't, contact support@getbento.com to help edit your Google listing name.
Checking Your Location in BentoBox
Once you're logged into BentoBox, go to Content Boxes > Locations > click the pencil icon.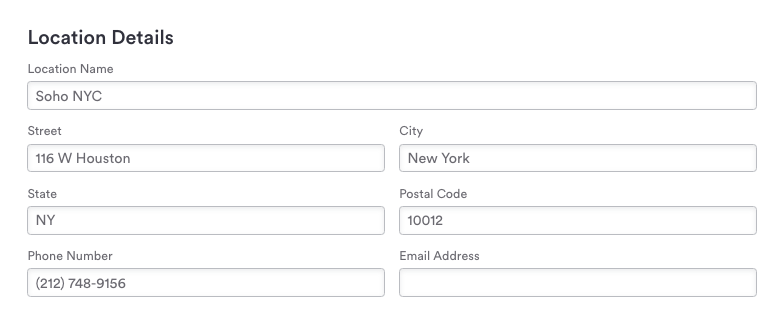 If your street, city, state, postal code and phone number don't match the information on your Business Profile on Google, you'll need to update your location in BentoBox or on your Business Profile for this integration to work.
Note: If you are a multi-location restaurant, Google matches each of your locations in BentoBox to each business listing on Google.
Can this feature be turned off?
Log into BentoBox and go to Settings > Integrations > Online Ordering > Google Food Ordering. You can turn the toggle OFF where it says "Accept Orders with Google."
With that said, this integration is meant to be kept on, in that it brings you more orders at no added cost for your restaurant. Also, there are controls in place to make sure your restaurant can handle any volume of orders. You can use features like order pacing, low inventory,  and autopilot to manage orders, 86-ing, and managing order status in BentoBox faster.
Why can't I have Google Food Ordering turned on AND have later online orders disabled?
Google requires you to have Later ordering enabled to use the Google Ordering integration. If you toggle 'Allow Scheduled Orders' in your Online Ordering location to off, this means that you will not be able to receive orders from Google Search and Maps. To use Google Ordering, you must re-enable 'Allow Scheduled Orders' for your locations. Learn more about disabling later orders here.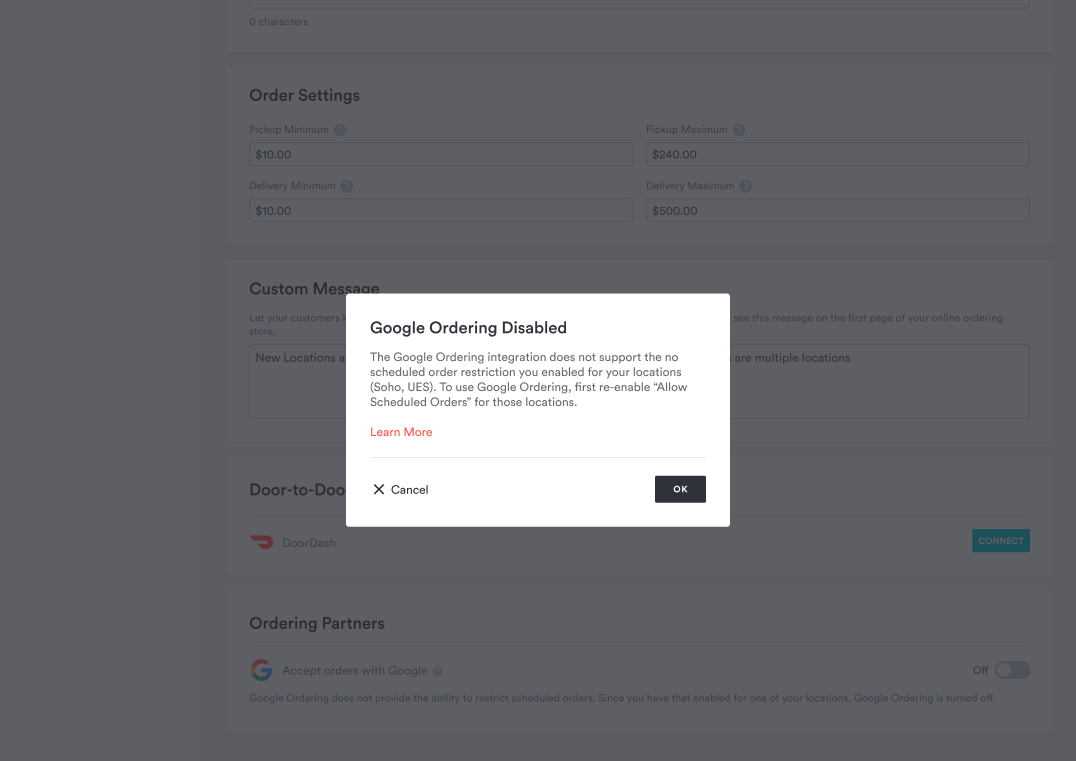 Online Ordering
Promote Online Ordering
Google My Business